With the "fresh, friendly and trouble-free" jenre of Hotel Jen, a  new brand of Hong Kong-based Shangri-la International Hotel, Hotel Jen aims to cater the new generation of highly independent business & leisure travelers. The brand will complete its launch by March 2015 along with other 10 Hotel Jens across major cities in the Asia Pacific.
Hotel Jen Manila is set to re-brand on November 20, 2014. This will bring an intuitive service attitude, relaxed and friendly style of service amidst existing   and upcoming mid-range hotels located in the best cities of Asia Pacific.
Inspired by a virtual persona named "Jen", a professional hotelier who delights in life, wanderlust, and adventure discovery, Hotel Jen attends guests with efficiency and attention, while also giving them details on the best local destination.

"The Hotel Jen experience offers what matters most to guests with a millennial mind set. They appreciate important things done well; demand quality, comfort and value, together with honest, authentic service; and want privacy and efficiency without unnecessary fuss or intrusion," said Greg Dogan, president and CEO of Shangri-La Hotels and Resorts.
"The Traders brand has had a 30-year history of success in generating solid business, carving out a niche amidst a highly competitive industry and building a loyal base of customers.
"However, we are looking to the future and – based on extensive consumer research and insight into the way our target market lives and travels, including talking and listening to our customers – we are recognising and responding to the global travel trends and particular needs of this new generation traveller. This will keep us relevant and competitive for the next 20 years to come," Dogan added.
Stress-free ease and simplicity will be shone in the overall Hotel Jen stay experience through the dynamic and friendly check-in, stay, check-out and on-going contact. A sense of belonging will be mused through the brand persona concept that positions guests as 'friends of Jen', with a thoughtful and respectful service standard communicated by staff in an enthusiastic, helpful and engaging way.
The Hotel Jen 'informed and friendly' service style will also help guests to the best of where they are, by providing local restaurant recommendations, under-the-radar sights and interesting boutiques. The Hotel Jen team will be a guest's own personal local travel and lifestyle guide.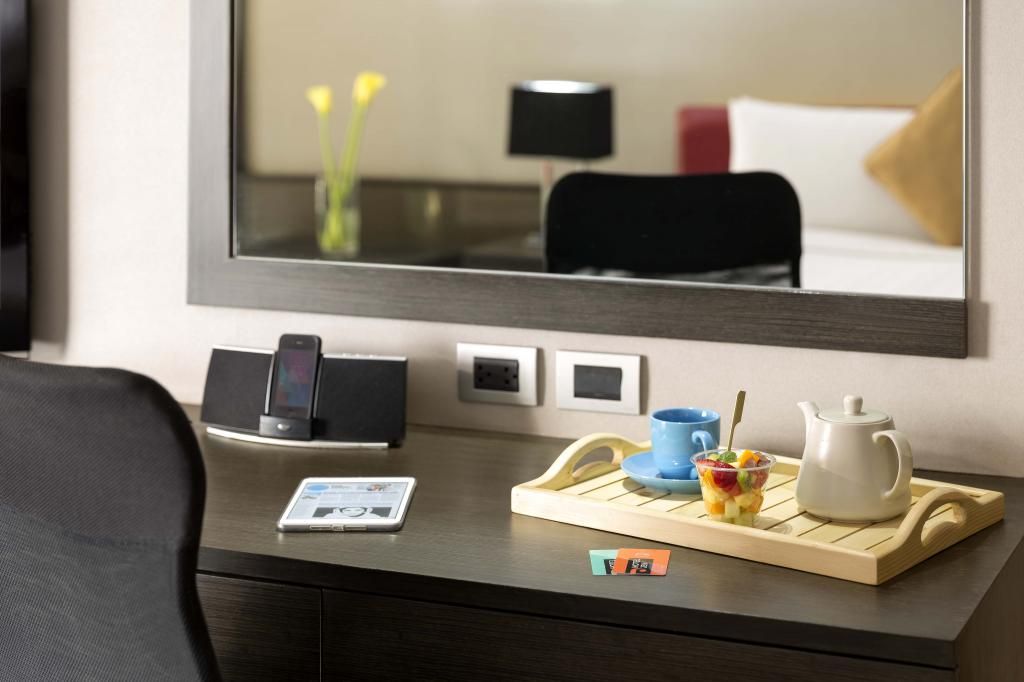 Technology will also play a key in catering to the highly social, young-at-heart travelers. Hotel Jen features Free WiFi everywhere, all the time, and convenient mobile charging stations throughout the building, are some of the many features. Guest comfort and safety are the highest priority and there will be no compromise on existing, high-quality standards.
Hotel Jen's restaurants will focus on delivering fresh local products, ensuring that the food is genuine and authentic. Free coffee/snack-box-to-go after breakfast and grab-and-go kiosks will be present.
"We are excited to be launching and engaging this new brand so rapidly. We definitely want to retain our existing customer base, who have been extremely loyal to us, but we also recognize that their needs have changed. Today's guests want more flexibility, as busy non-traditional work hours tend to blend the boundaries between business and leisure," said Lothar Nessmann, chief operations officer of the Hotel Jen brand.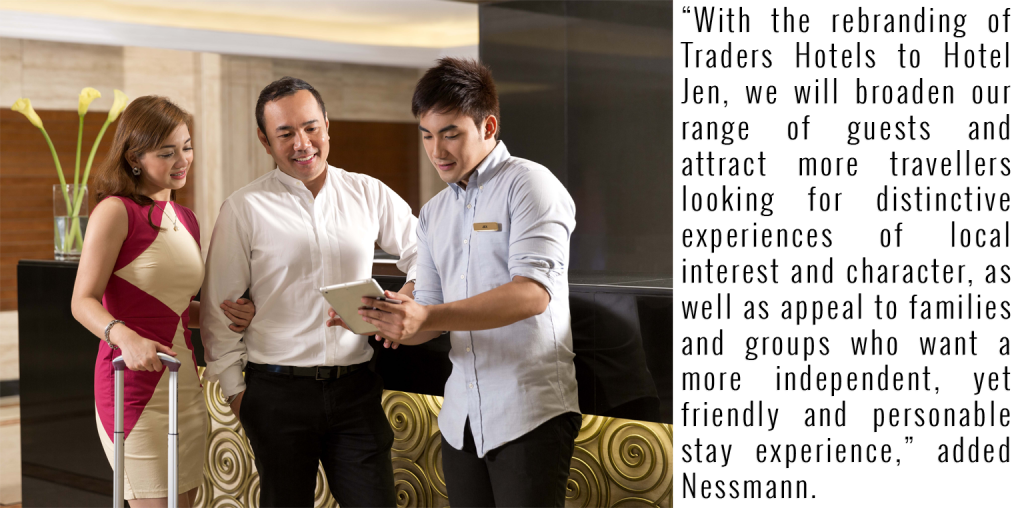 While Traders hotels in Singapore, Hong Kong, Brisbane and Penang has re-branded recently, Hotel Jens in Johor Bahru, Manila, Maldives, Beijing and Shenyang are scheduled to re-brand starting November 2014 to March 2015. Future Hotel Jen development projects are under discussion in key gateway cities in South East Asia.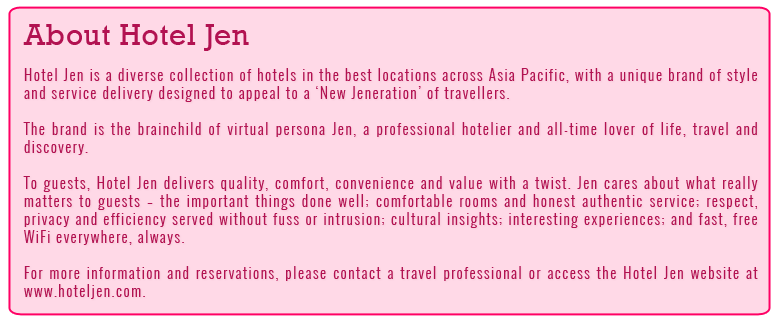 Comments
comments