If you're looking for a spectacular sight of infinity pool around the Philippines which is synonymous to posh and luxurious tropical vacation well, you are on the right page.
The surreal overflowing pool assembling with the panoramic blue horizon is a visual feast you would want to have every day. I mean with all the stress and grime we encounter every now & then we deserve to have these grandiose paradise once in a while.
Warning: The following images will boost your Endorphins to the highest level and will make you pack your bag and head to their locations. But before we begin with the list, if you're in search for the best gift for your travel buddy don't forget to visit this link.
1. Vivere Azure, Batangas
Sundowner will surely love the sunset view from Vivere Azur 's infinity pool while having a glass of Piña Colada. Located on Anilao, Batangas this simple yet incredible resort owns a very endearing location. Aside from the magnificent Sunset, there are many activities to much everyone's interest like active water sports, scubadiving, snorkeling, recreational, to simple candle-lit dinner or just chilling to name a few.

Photo by: Flickr.com Jsineneng Barrios
Vivere Azure
Barangay Aguada, San Teodoro, Anilao, Batangas
+632 7717777
www.vivereazure.com
2. Punta de Fabian, Rizal
Its opulent architecture and world-class service reflect the premier experience you can have from Punta de Fabian. Their infinity pool promises you perfect mix of serenity and seclusion that will capture your heart with its panoramic view of Laguna de Bay. Its 3-hectare periphery offers a wide selection of sports and recreational facilities including a boracay-sand kid's playground.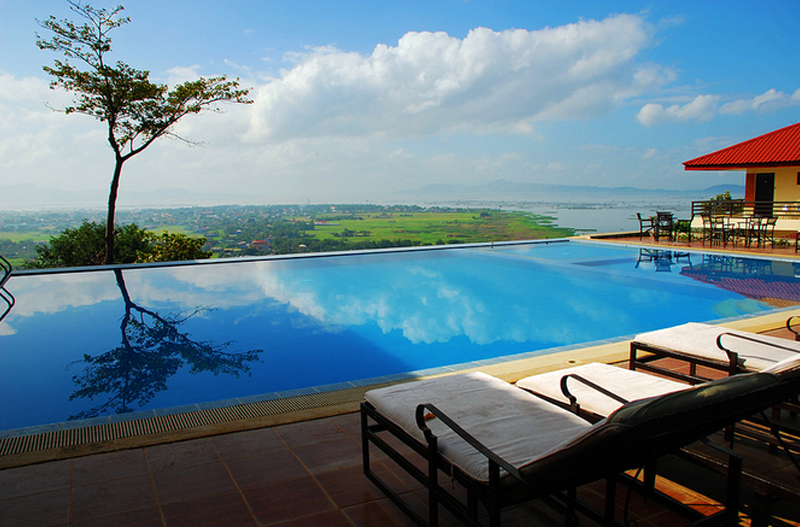 Photo by: Flickr.com Oliver Bautista
Punta de Fabian
Manila East Road, Barangay Evangelista, Baras, Rizal,
+632 994.9560 | +632 994.9546


www.puntadefabian.co

m
3. Antulang Beach Resort – Negros Oriental
Nestled 40KM south of Negros Oriental, Antulang Beach Resort features an amazing scenic view of Sulu Sea. An hour ride from Dumaguete City, this quaint resort will give a sweet sun indulgence on their outstanding infinity pool. The resort is blessed with commanding view of alluring endless sea and a kilometer stretch of white sand guarded by protruding rock formations.

Photo by: Flickr.com The Scalpel Master Photography
Antulang Beach Resort
Antulang, Siaton, Negros Oriental
+6335 422.2600|225.8899|0917-700-2461


www.antulang.com
4. Acuatico Beach Resort, Batangas
The gorgeous royal blue backdrop and sleek elegant architectural display from Acuatico Beach Resort is your next perfect destination for an unwinding wanderlust getaway. The top notch resort is known for its classy infinity pool and unmatched hospitality in San Juan, Batangas. Include in your bucket list because the 3 hour drive from Manila is worth it! Speaking of bucket list, why not update yours with this 80 Items You need to Include in Your Bucket List this 2015.

Photo by: Flickr.com Leslie A Pomicpic
Acuatico Beach Resort
Laiya, San Juan, Batangas
+632 892.7577 to 79|0927.6807835
www.acuaticoresort.com.ph
5. Eskaya Beach Resort & Spa
This jaw dropping infinity pool of Eskaya Beach Resort & Spa is truly a must see & experience item on the island of Panglao. The 16 hectares boutique resort offers a cardinal view of Bohol azure sea, a mountain with lush vegetation, and a long stretch of white, powdery sand and Filipino with a splash of modern style architecture.

Photo by: Flickr.com JHC CO_LTD
Eskaya Beach Resort & Spa
Barangay Tawala, Panglao Island, Bohol
+632 576.3082|576.3051
www.eskayaresort.com
6. Bellaroca Island Resort & Spa
The Unparallel beauty Santorini-inspired Bellaroca Island Resort & Spa in Marinduque Island will indeed earn you bragging rights while the one of the most grandiose infinity pools in the Philippines. Seated on rolling terrain contrasted with the azure blue of the sky above and the clear water below can be reached by the Resort's chartered boat. And while sailing the famed classic white buildings and villas against thick verdant vegetation of the island will welcome you.

Photo by: Flickr.com Mark Erbel Domingo
Bellaroca Island Resort & Spa
Barangay Tungib, Lipata, Buenavista City, Marinduque
+ 632.310.9931|892.4102
www.bellaroccaresorts.com
7. The Oriental Hotel – Legaspi, Albay
An hour flight from Manila, The Oriental Hotel – Legaspi utterly compliments the extravagant beauty of Mayon Volcano with its exquisite architectural display. This perfect spot in Legaspi, Albay should be meeting all your requirements for relaxation while chilling in front of the active volcano. The hotel is also popular with destination for Meetings, incentives, conferencing, exhibitions (MICE) due to its sprawling space.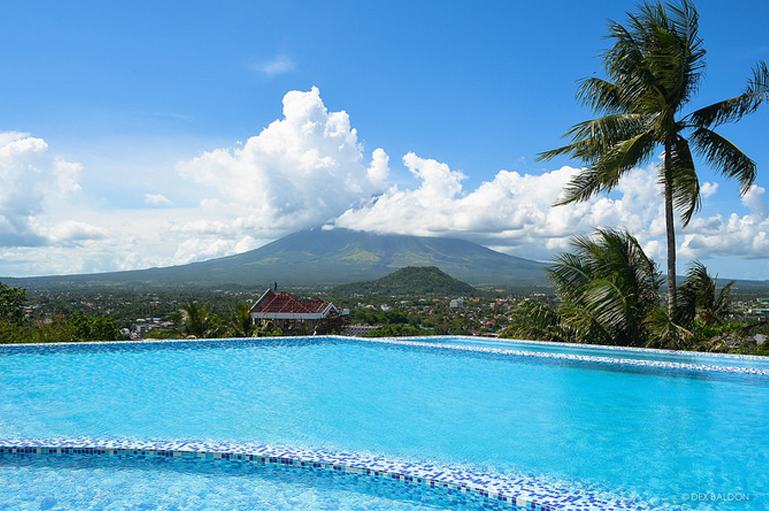 Photo by: Flickr.com Dexter Baldon
The Oriental Legazpi
Taysan Hill, Sto. Niño Village,Legazpi City, Albay
+6352 480.0383 to 85


www.legazpi.theorientalhotels.com

 
8. Amorita Resort, Bohol
Located atop a limestone cliff of Southern Panglao Island, this idyllic infinity pool of Amorita Resort should be part of your travel list in Bohol. A dip on its more than 30 square feet epicurean pool will surely make you appreciate the unspoiled beauty of it Bohol's azure water. Its position along Alona Beach holds a perfect view of pristine white sand and alluring Bohol Sea.
Photo by: Flickr.com Ermelo Villareal Jr.
Amorita Resort, Panglao Island, Bohol
#1 Ester A. Lim Drive, Barangay Tawala, Alona Beach, Panglao Island, Bohol
Contact:  +6338 502.9002|0917.726.4526 Manila Line: +632 856 1443 |0917 861 9441


www.amoritaresort.com
9. The Bellevue Resort, Bohol
Undeniably one of the best places to stay in Panglao, The Bellevue Resort boasts on its exquisitely designed rooms, aristocratic amenities, and its stellar view from its infinity pool. Its gastronomical offerings and first-class hospitality service make it as a consistent placer on TripAdvisors' Traveller's Choice Award on Top 25 Hotels in the Philippines.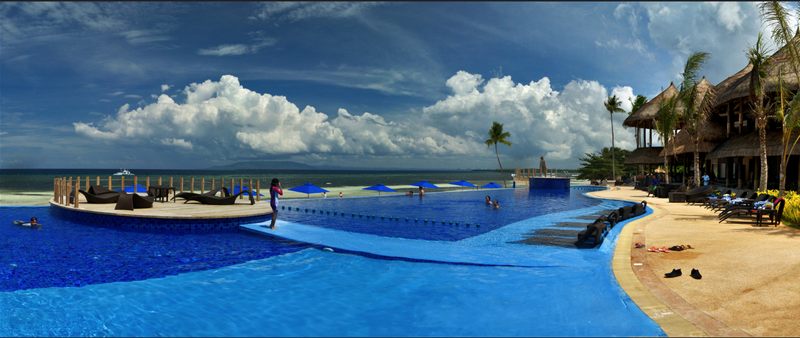 Photo by: Flickr.com Wingmarc
The Bellevue Resort Bohol
Barangay Doljo, Panglao Island, Bohol
(6338) 422.2222
www.thebellevue.com/bohol
10. Kamana Sanctuary Resort and Spa, Subic
Majestic Mountaintops, beautiful beaches, and lush rainforests are few of the reasons why you should visit this resort in Bataan. Its infinity pool offers an unmatched vista of Subic Bay and Zambales mountain range.

Photo by: Flickr.com Carmela Maniego
Kamana Sanctuary Resort and Spa
Nabasan Beach, Illanin Forest, West District, Subic Bay Freeport Zone, Zambales
+632 843.7851|(Makati) +63 47 250.0725 to 28 (Subic)


www.kamanasanctuary.com
11. Santiago Bay Garden & Resort, Cebu
Nestled on top limestone rock formation, Santiago Bay Garden & Resort captures a grotesque overlooking view of broad Santiago Bay. The resort owns two infinity pools which offer view of magical cyan sea and royal blue sky. It's a little paradise located on the northeast of Cebu City which perfect for finding serenity and solace.


Photo by: Flickr.com Rome Gerardo
Santiago Bay Garden & Resort
Santiago, San Francisco, Camotes Island, Cebu
+6332.345.8599|344-6899|(+63)917.3292448
www.camotesislandph.com
12. Luljettas Hanging Gardens, Rizal
And if you still want to relax and find solitude but not willing to fly somewhere, drive to eastern Manila and you'll find Luljettas Hanging Gardens. Though the infinity pool is quite small, its serene and laid back atmosphere is perfect for a day of pampering. You can expect a decent and nice overlooking view of verdant hills, Metro Manila's Sky line and Laguna de Bay.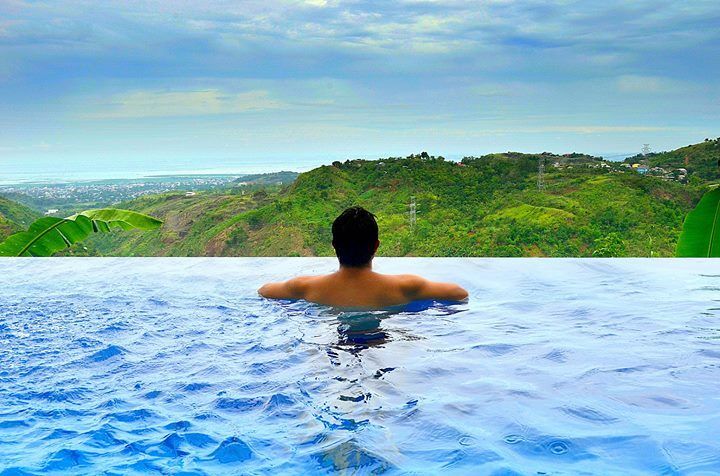 Photo by: Bienvenido Tours
Luljettas Hanging Gardens
622 8779, (0917) 544 4432, Luljetta's Reception 570 2532, (0977) 162 6569
Sitio Loreland, Brgy. San Roque, 1870 Antipolo, Rizal


www.bienvenidotours.com/luljettas-hanging-gardens-and-spa
Comments
comments