Secluded in a romantic spot of Cavite near Tagaytay City, Sonya's Garden gained prominence from its tranquil and relaxed ambiance. Opening its door to public on the 14th of February 1998, the once secret garden turned into a romantic destination for couples celebrating their relationship, a sanctuary for people seeking refuge & respite for their souls. The off beaten garden is home to colossal variety of thriving floras. Wherever you set your eyes lush greens display vibrant hue that is visually soothing.
Aside from Sonya's Garden, there are three other farms cum gardens you can visit near Tagaytay City. Discover these farms in 4 Organic Farms in Tagaytay You Need to Visit
.
I remember the first time I read an article about the place. It was tagged as "Eden Garden of the Future". It was reviewed excellently with eye catching pictures. I was in High School back then and there's no other means to visit the place but just satisfy myself with the pictures and imaginations about the garden.  Since then, I promised myself to visit Sonya's Garden one day.
So when my officemates invited me for a lunch in Sonya's Garden. I was reminded of my longing and gave in immediately to the invitation. It took us an hour and a half to reach the place from Manila.
As soon as we sat down, the servers started filling our table with white ceramic bowls of different spreads and a basket covered with white linens, full of freshly baked whole wheat sesame breads. They also serve us a pitcher of Dalandan Juice for our drinks.  We were given 5 different dips to spread on our sliced bread. Each spread holds distinct and tangy taste. Selections are namely Basil Pesto, Bruschetta Tomato Topping, Mushroom Pate and Anchovies. And my best choice is — Mushroom Pate.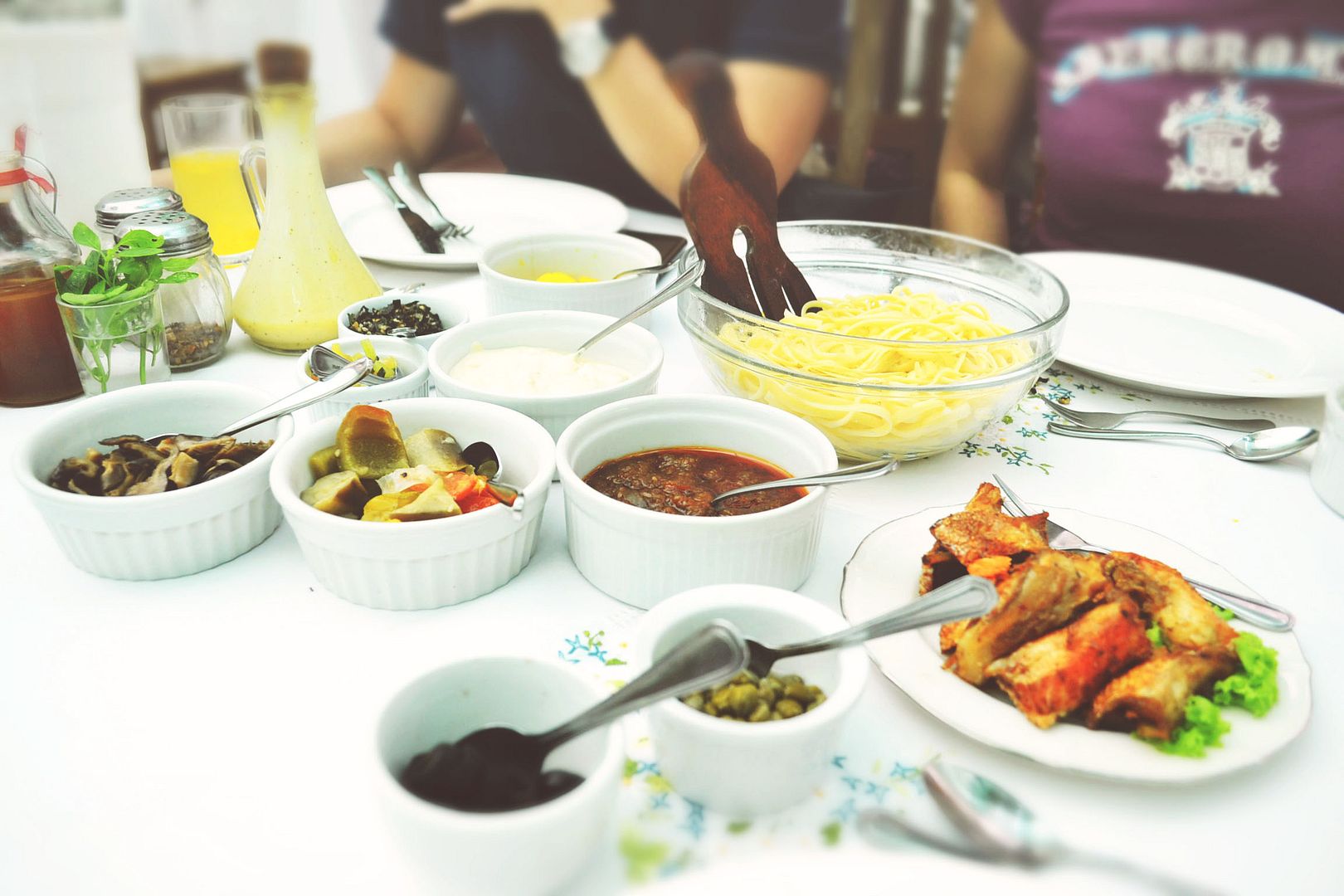 We were still enjoying the bread and spreads, when another server came to our table and started placing a large bowl of freshly picked greens. It consists of Romaine, Arugula, and edible flowers! This was followed by a number of small bowls containing eggs, turnips, jackfruit, ripe mango, broad beans and cucumber.  There were two kinds of dressing available on our table Balsamic Vinaigrette and Sonya's Garden very own secret dressings.
The crunch of Romaine, the peanut-y tang of Arugula along with the other ingredients drizzled with the secret dressing burst into flavors as I spoonful indulge myself on the healthy dish. It simply tastes appetizing.
We were already full when we finished the last bowl of Salad but our gula over the first two sets of organic selection didn't end there. Another man came and asked us if he can serve the pasta. I know my waistline will surely hate me if I stuffed myself with another meal. The man came back with a bowl of pasta and several plates. He provided us two kinds of sauce – the sun dried tomato and the chunky chicken cream. They also served us small bowls of ratatouille, shitake mushrooms, black olives, capers for an added taste and strips of Salmon belly, I preferred the white sauce and a small mixture of red sauce. The Salmon belly soaked in vinegar is also something to try.
One word – bloated. I could have easily regretted the pigging out but I didn't because the foods are are considerable healthy and organic.  It's a guilt-free choice when you're in Tagaytay against the sinful Bulalo and Crispy Pata.
Good thing the buffet also comes with unlimited tea and desserts. I like the Tarragon Tea which oozingly soothing in smell and taste. We were also served with a slice of chocolate cake, camote cue, and turon but we barely touched the camote and turon.
After feasting it was time to explore the garden, we took every opportunity to breathe fresh air and enjoy the mantra inside Sonya's Garden. We saw this "Panaderia" Bakeshop and bought their famous and delicious Hyspanish Bread to take home.  They have two other shops selling vast variety of merchandise from simple trinkets to designer's piece to Sonya's Secret Dressing to Organic Beauty Products.
I wished I could spend more time inside Sonya's Garden or probably spend a night in one of their Villas but not with my special someone. So maybe next time.
How to Get to Sonyas Garden
From Sky Ranch drive straight Tagaytay – Nasugbu Highway going to Batangas, until you pass Splendido Taal and Alfonso Hotel Tagaytay, turn right on Buck Estate Road and head straight until you reach Sonya's Country Bed & Breakfast, don't worry because there are signs which will lead you to their gate. If you are commuting, you need to check "How I left my heart in Sonya's Garden." For your convenience copy the exact coordinates below to your map app.
Note:
Lunch and Dinner Buffet is priced at Php 650. Advance reservation is advised.
Sonya's Garden
Barangay Buck Estate, Alfonso, Cavite, Philippines
(near the vicinity of Tagaytay City, Philippines)
For reservations, call or text the following numbers:
+63-9175329097 / +63-9175335140 / +63-9175231080
info@sonyasgarden.com
http://www.sonyasgarden.com/
Comments
comments